PROCEDURE

LUMECCA is an IPL (intense pulsed light) equipment which performs photo renewal of skin and treats spots of pigmentation and blood vessels. After just one treatment patients report significant improvements of skin colour and clarity, and also skin tone, turgor and elasticity is improved.
RESULTS – BEFORE AND AFTER
YOU WILL SEE THE RESULTS IN THE COMING DAYS AFTER JUST ONE TREATMENT
Unbelievably quick and better than any competition – this is LumeccaTM by Inmode. The majority of patients show significant improvements after just one treatment. For instance, if sun damages need to be treated, the results will be seen in a few days.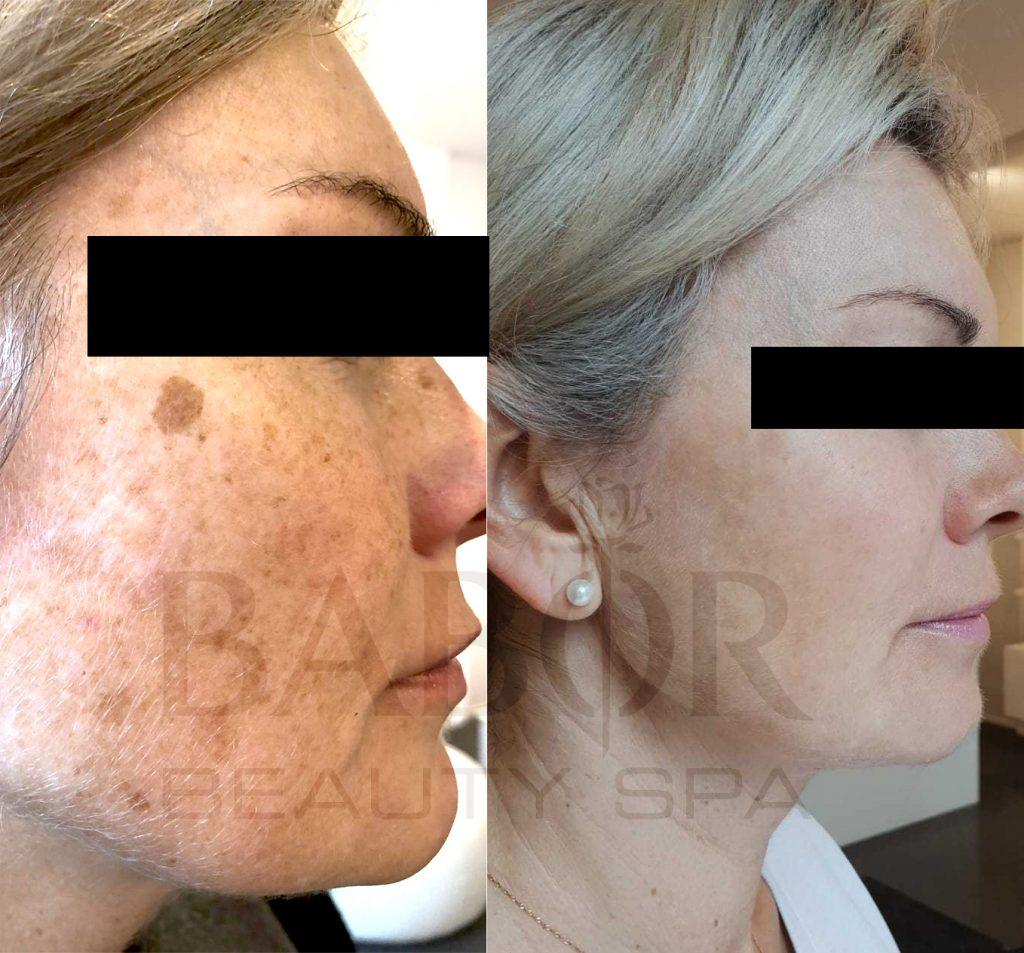 The result after 3 treatments. Approximately 60% of the result is achieved after the 1st treatment which is rather typical to LUMECCA. Notice how the condition of the skin has improved too.
AFTER THE LUMECCATM TREATMENT THE SKIN CONDITION CONTINUES TO IMPROVE
With time your skin will become even more young and glowing. Typically, it takes up to two weeks before you will see the full extent of the results from an IPL treatment.
Frequently asked question
LUMECCA is the best IPL technology available on the market today. It can be used on any part of the body. We will treat your skin problems:
on the face,
décolleté,
neck,
back of the hands.
This treatment is based on IPL or intense pulsed light technology. IPL can be targeted on the removal of particular skin conditions. Thanks to the selective photothermolysis and the specific parameters of the equipment, we can achieve synchronous action on various chromophores, which solves several problems at the same time, within one procedure.
LumeccaTM by Inmode is an innovative IPL solution which is able to deliver the maximum power in such a short time that it all goes to the target tissues without affecting the rest of the tissues, and the improvements are visible already after the 1st time.
You will notice bright and strong flashes of light during the treatment. No noise or pressure on the skin. As a light treatment it is non-abrasive and non-invasive. It means no downtime after the treatment.
LUMECCA is suitable for all types of skin. It is recommended for those who prefer non-invasive treatments which are especially effective.
The treatment is for you if:
you have red or brown age spots,
you want to reduce or remove sun damages to the skin,
you suffer from rosacea,
you want to reduce or remove freckles,
you have spider veins or port wine stains on your skin,
you want to improve the general condition of your skin, even out the skin colour and make it glow,
you have reduced skin tone, turgor and elasticity,
you want to reduce pores.
It is allowed to combine the LUMECCA treatment with other procedures, e. g., thermo-lifting, facial injections and/or filler procedures. However, we recommend you to consult with your cosmetician before you combine several treatments at the same period of time.
Pregnancy;
Cancer diseases;
Precancerous states of skin;
Metal prostheses ;
Sunlight allergy;
Weak immunity;
Blood incoagulability;
Elevated arterial pressure;
Diabetes mellitus;
Internal injury;
Strong body suntan.
Recovery Time

Līdz 5 dienām

Skin Type

Visiem ādas tipiem

Previous Procedures

Nav nepieciešama

Anesthesia

Nav nepieciešama

Rezultāti var atšķirties atkarībā no cilvēka
Removal of pigmentation spots up to 10 cm2