PROCEDURE

10 YEARS OF RESEARCH BY ITALIAN MEDICAL EXPERTS
The endospheres therapy or EOS is the 1st treatment in the world which is a scientifically proven, clinically tested non-invasive treatment which solves several body issues non-aggressively, but effectively.
Thanks to the micro-vibration and compression technology, we achieve treatment of problematic areas and body correction.
The endospheres therapy is a safe, painless machine treatment that uses a special Sensor system that «senses» the body, adapting the strength and the mode individually.
There is no need for a post-treatment recovery period, and the result is visible for up to 6 months. Following specialist recommendations about healthy nutrition and lifestyle, it can be even longer!
Frequently asked question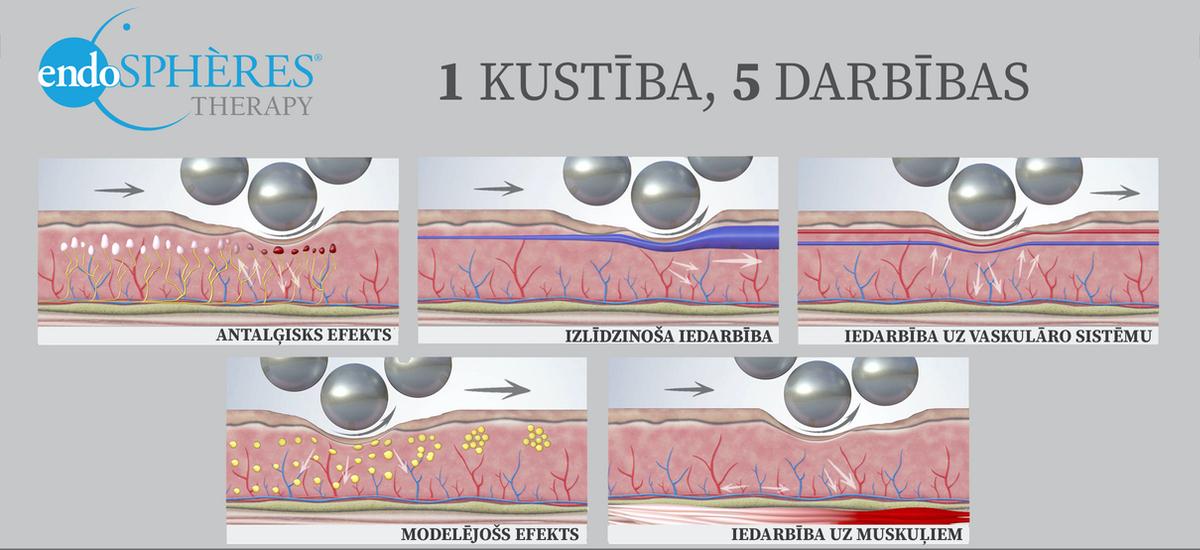 The device has a built-in Compressive technology that produces micro-vibrations and compression, which works on tissue using a cylinder that consists of 55 rotating spheres. The spheres are made of safe, hypoallergenic silicone and are located in certain distances in order to promote an easier access to the problematic areas.
This way it affects even the deep muscles without harming skin or lymphatic/venous system. Thus, the treatment is suitable if you have swollen veins or broken capillaries.
Improves the blood circulation, strengthens vessels and capillaries
Promotes the lymphatic flow, prevents oedema, detoxifies the body from the inner end-products and toxins
Stimulates the synthesis of collagen and elastin
Increases the skin tone, fights against the effects of gravity
Speeds up metabolism
Heals cellulite of all degrees
Decreases the volume of the fat cells
Decreases the body mass
Performing this treatment, a special suit is not needed thanks to a special oil that allows the device to be moved around the body. The 1st step is the lymphatic drainage (activation of the lymphatic glands). Afterwards, massage of the entire body: hips, logs, buttocks, knees, abdomen, back, arms.
As the intensity of the technology is many times higher than the intensity of the manual massage, vacuum massage or LPG massage devices, you will see and feel the results after just one treatment, but the results will be substantial after few first sessions.
A cosmetician will prescribe a course of 6, 12 or 18 treatments. The recommended interval between the treatments is 2-3 days (twice a week).
Cellulite, uneven surface of skin
Unnecessary deposits of fat, oedema
Aesthetic problems of the facial skin
Wrinkles around eyes
Decreased skin turgor
Tired muscles after physical activity
Back pain
Tension
Procedure Time

30-70 min.

Skin Type

Visiem ādas tipiem

Previous Procedures

Nav nepieciešama

Anesthesia

Nav nepieciešama

Rezultāti var atšķirties atkarībā no cilvēka
Procedūrās cena atkarīga no apstrādājamās vietas lieluma un specifikas.